reasons to learn French
10 reasons why learning the French language is an advantage
1. Learning French requires discipline. You learn grammar, sentence structure, vocabulary, humour and so much about other people and cultures.
2. Today's students have more exposure to the global realities of our planet. They know that linguistic diversity, including the study, use and expression of French, is not going to disappear.
3. Language is about discovering new worlds where ideas, knowledge and communication are widespread.
4. Knowledge creates happy and satisfied people who improve their lives and contribute to society.
5. Nobody ever regretted the opportunity to learn French but we do, however, hear people say all the time that they wish they had learned it when they were younger. Make sure your children don't have any regrets
6. In addition to developing a lifelong ability to communicate with more people, children may derive other benefits from early language instruction, including improved overall school performance and superior problem-solving skills.
7. Knowing both French and English ultimately provides a competitive advantage in the workplace by opening up additional job opportunities here in Canada and around the world.
8. Statistics show that students of a second language score higher on standardized tests conducted in English.
9. French is the official language of 33 countries and is spoken in 50 countries around the world.
10. French is spoken in two of the G8 countries.
Others Reasons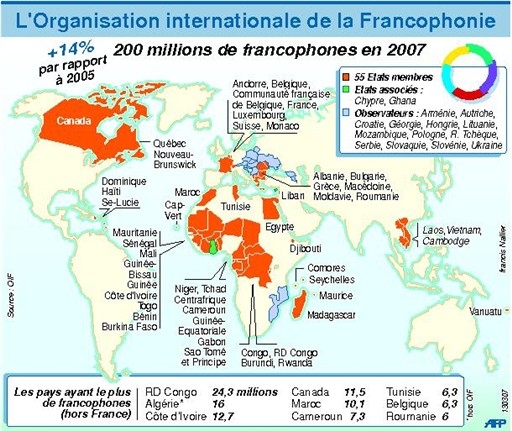 ?
French is spoken on five continents.
Learning French can help you learn other languages.
More than 212 million people around the world understand, speak, read or write French.
French is the official language of postal services across the world.
Along with English, French is the official working language of the United Nations, UNESCO, NATO, CUSO, the Organization for Economic Cooperation and Development (OECD), the International Monetary Fund, the International Labour Bureau, and the International Olympic Committee.
French-speaking Africa represents an area larger than the USA.
French is the second language most taught in the world after English.
Over 20,000 English words have their origins in French, so learning French helps one to increase his or her English vocabulary.
In terms of the number of words, French is the second largest language after English.
In the humanities and social sciences, many important ideas come from France. Students and researchers who know French have access to these works for several years before they are translated into English. Many significant works are never translated and remain accessible only to those who know the language.
France is the world's top tourist destination with 60 million tourists yearly.
France is in fourth position in terms of world power.
France has the fourth largest economy in the world after the USA, Japan and Germany.
France is the fourth largest producers of automobiles in the world (Renault, Peugeot, Citroën) and the third largest exporter of automobiles.
The French export more per capita than the Japanese and more than twice as much as the Americans. Overall, France is the fourth largest exporting nation of the world.
France offers a range of generous scholarships to our graduate students and teachers.
France has the world's greatest number of Nobel Prize winners in literature (12).
French trade with Canada was very high in the last decade.
A good knowledge of French enables you to fully enjoy some of the best films in the world.
Learning French can help you improve the interpersonal skills you bring to an international career in computer technology, pharmacy or engineering.
You can do more things on the Internet if you know French, that with high quality sites from fashion to finance, society to science and music to medicine.
For those with the appropriate French skills, there are also possibilities for work in the following fields, international business, international agencies, the tourism and hospitality sectors, the diplomatic service, the post office, the RCMP, French research institutes, teaching, translation and interpretation, and government.
More than nine million Canadians speak French.
More than 47,000 people in Saskatchewan speak French.
Other than English, French is the only language widely spoken on all continents.
Learning a second language has been shown to have a positive impact on intellectual growth. In fact, studies suggest learning a second language can enhance cognitive and intellectual abilities.
Over 150,000 Canadian students attend French as a first language (francophone) schools outside of Québec. Over 320,000 students are enrolled in French immersion programs across Canada.
The number of schools offering French immersion has increased from 237 in 1977 to over 2,115 across Canada today, including every province and territory.
Learning a second-language enhances problem solving and hypothesis-testing skills, the same skills used in math and science.
Saskatchewan boasts some of the best French programs in the country.
Learning French in Saskatchewan's is part of the school system.