French is alive and well in Saskatchewan!

Discover a vibrant, active French speaking community—right here in Saskatchewan!
Learn More

Your children will thrive as they learn in French, whether it's their first or second language.
Learn More

A new language is so much easier to learn as a toddler. Our network of French language daycares and preschools will help your children get an early start.
Learn More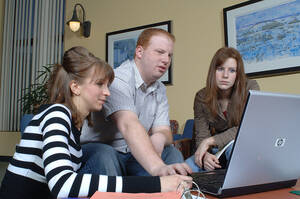 The future is wide open! Education in French is available in a variety of Saskatchewan's universities and at colleges.
Learn More

Television stations, printed media and radio: you can always stay informed, en français.
Learn More

Experience accents, foods, celebrations and artistic expression from a variety of French speaking communities. You'll fit right in!
Learn More

Kick back and enjoy the multi-faceted French culture, concerts, festivals, theatre and art shows held around the province—all year long.
Learn More

The opportunities are right here with employers who regularly recruit French speaking staff.
Learn More