La Cité universitaire francophone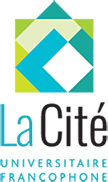 La Cité at the University of Regina provides a wide variety of courses and training for many target audiences based on their interests and objectives. To facilitate access to learning, these training opportunities may be offered outside of Regina, depending on the demand and number of registrations. Distance education courses are also available. Most of the courses are offered on a part-time basis, in the fall, winter and summer sessions.
For more information on the programs or to request to have a course taught in your region, contact the bilingual web site or contact us at (306)585-4828 or by email at cite@uregina.ca.
---
A French diploma can open many doors in Canada, as well as internationally, at a personal and professional level. This diploma can also serve as a starting point towards multipal careers or fields of study such as education, law, international studies and journalism. For more information, click here.
---
The Certificate French as a Second Language program is a 30 credit, full-time program that takes place over two semesters of study. The program allows a student to obtain an advanced intermediate level of French, both written and spoken. It is designed for students with a core-french background.
Students can learn in a favorable immersion environment all while familiarizing themselves with the fransaskois community. Consult La Cité's website here to learn more about the Certificate in French as a Second Language.